My Featured 42B Business of of the week is @Prigel Creamery where you can find the happiest cows, tastiest ice cream and freshest farm to table options in the area! I joined the Secretary of Agriculture Joseph Bartenfelderand his administration today to learn more about all things dairy! A super special family-run treat for the whole family! Visit them soon! Www.prigelfamilycreamery.com
My 42b Business of the Week is not a business at all. My Neighbor's Foundation is a wonderful non-profit that serves schools.families. individual student's and our entire community. Today I attended their summer fundraiser. Please learn more and donate atwww.myneighborsfoundation.org if you are able. The donations directly benefit the HZ!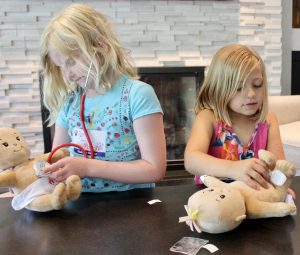 This week I am featuring an innovative new camp idea as my 42b Business of the Week! Little Medical School - Baltimore still has openings in Hereforrd for Summer Camps! This program exposes kids to STEM and medical fields by providing fun and interactive activities. We love promoting new business but especially programs like this one!! Check them out at www.littlemedicalschool.com@MC Beck
This week our 42B local business spotlight is shining on Royal Rabbit Vineyards in Parkton! You can visit them at 1090 Jordan Sawmill Rd from Thursdays- Sundays 11-5 to taste their wonderful wines and see the grapes growing right on the hillside. My favorite red varietal is "The Duke" is pictured here. Roy Albin have been making wine for 35 years and opened the tasting room to the public in 2011. The vineyard also hosted regular fun events check them out at www.royalrabbitvineyards.com!